Feature Flora x Escazú Chocolates - Tencha & Sea Salt Bar Pairing Set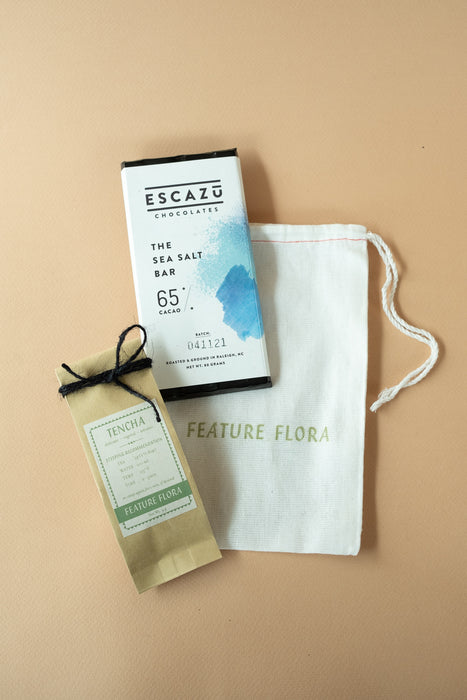 We teamed up with Escazú Chocolates, a small-batch bean to bar chocolate maker and shop in Raleigh, North Carolina, to bring you a beautiful experience of what you may think of as an unlikely pairing: tea and chocolate!
Escazú Chocolates makes their chocolate using beans sourced from small Latin American farms and co-ops. Feature Flora's green teas are sourced from Kiroku Tea Garden, a 4th generation women-owned tea farm in Wazuka, Kyoto Prefecture, Japan.
Set Includes: 9g Tencha Tea, 80g Sea Salt Chocolate Bar, Information sheet about tea and chocolate with tasting notes in a cloth bag
Pairing Tasting Notes
Rich Mouthfeel, Grassy Floral Front, Savory Finish, Mandarin Zest
Tencha: Tencha is rarely sold in Japan and is usually reserved for matcha production which makes this tea extra special. Each year, the newest leaf shoots are harvested from tea bushes that are shaded from the sun to allow for a sweeter umami flavor to develop. Net Wt. 9g loose leaf tea (3 servings with multiple steeps per serving)
65% Cacao Sea Salt Bar: The Sea Salt bar is made with a blend of Latin American beans carefully selected according to harvest availability and quality. Finished with a light dusting of medium sea salt crystals. Net Wt. 80g chocolate bar
Sea Salt Chocolate Ingredients: Cacao, Organic Sugar, Cocoa Butter, Sea Salt
Lactose, Soy, and Gluten Free
Made in a facility that handles nuts, soy and milk products.
_________________________________________________________________________
Escazú Chocolates is a small batch, bean to bar chocolate maker in Raleigh, North Carolina. Since 2008, they have produced chocolate using antique equipment and traditional methods from beans they source from small Latin American farms and co-ops. With their culinary background, they approach chocolate as they would prepare food for family: with care, integrity and respect for the quality of the natural ingredients. 
Kiroku Tea Garden is a 4th generation women-owned tea farm in Wazuka, Kyoto Prefecture, Japan. A total of 26 tea fields are lovingly tended by Megumi Hori, her sister Hiroe, and their mother Yoko. After Megumi's father passed away several years ago, Megumi returned to Wazuka to help her mother continue the near-century-long family legacy. 
The Hori family processes their own tea and matcha in-house and are passionate about revitalizing the tea industry in Japan. By experimenting with rare cultivars and creating unique single-origin teas, they hope to reignite people's appreciation of the beauty and complexity of high-quality Japanese tea.