Rice Wax Candles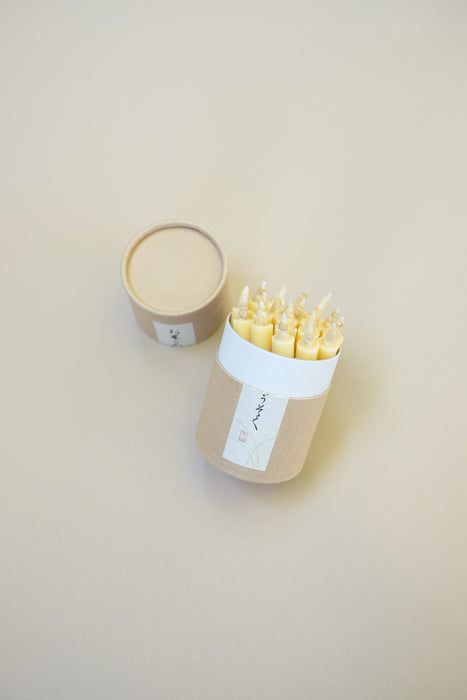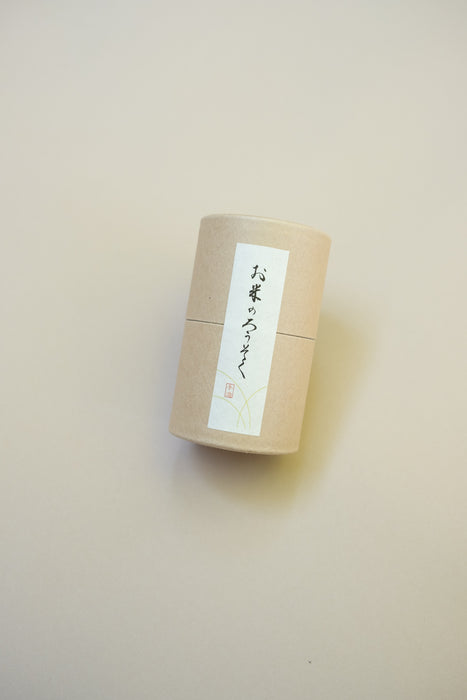 Great for a quiet relaxing night or rainy day and creates a comforting and meditative atmosphere. 
Each box comes with 20 rice bran wax candles that burns for 40 minutes each.
Daiyo utilizes
 100% local and natural plant wax. Each candle is meticulously handcrafted by artisans in the Shiga prefecture in Japan. 
By using a sustainable resource, these practically odorless Japanese candles do not produce smoke nor does the melted wax flow out of the candle. The wax also produces a larger and brighter flame than the modern paraffin candles. 
Candle Size: 3" per candle
Burn Time: 40 minutes
Gift Box includes: 20 rice wax candles, black ceramic and iron candle holder
and the gift box is made of rush weed, Washi-paper, and silk fiber
20 candles per box. Unscented.
Never leave a burning candle unattended.
"In prayer, in conversation, in self reflection, the candle subtly changes its expression in response, in feather like gentleness and ethereal warmth. The flame emanates an emotion not possible with electrical lights in our daily lives. "From Monologue to dialogue" is a principle theme at Daiyo, as we constantly contemplate the innate powers of the light of a candle flame, and how human relations are derived and created from it. We will continue making candles of the highest quality in order to pass down the closely-knit relationship between flame and humans that we have weaved since generations ago."
_________________________________________________________________________
Daiyo was established in the Takashima county of Shiga Prefecture in 1914. The artisanship has been passed down across four generations, polished and refined as time passes. Shiga prefecture is home to Lake Biwa, the largest lake in Japan, and an abundance of natural resources. Consequently, Shiga has accumulated a wealth of knowledge on the coexistence of man and nature. Daiyo's Japanese candles are 100% made from natural plant wax. Our principles of making candles from the blessings of nature have remained unchanged since our establishment more than a century ago.