Hyang Nhang Incense Set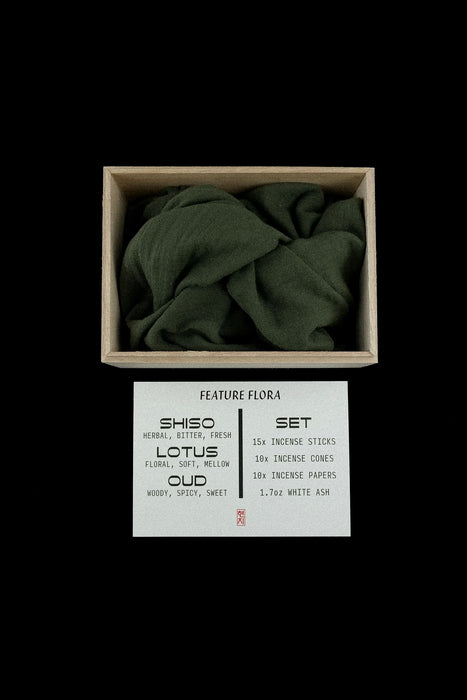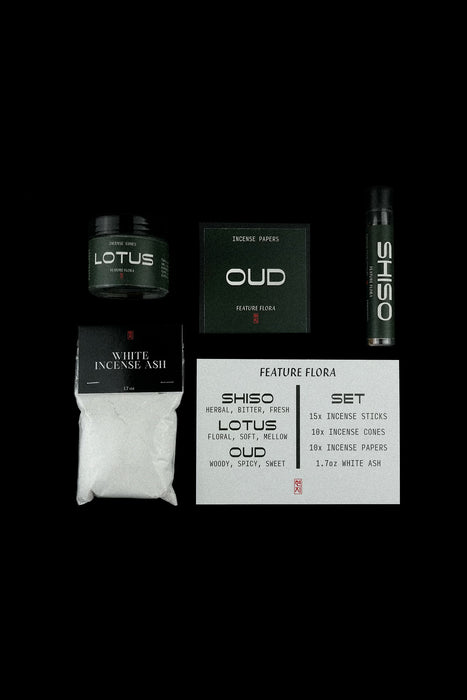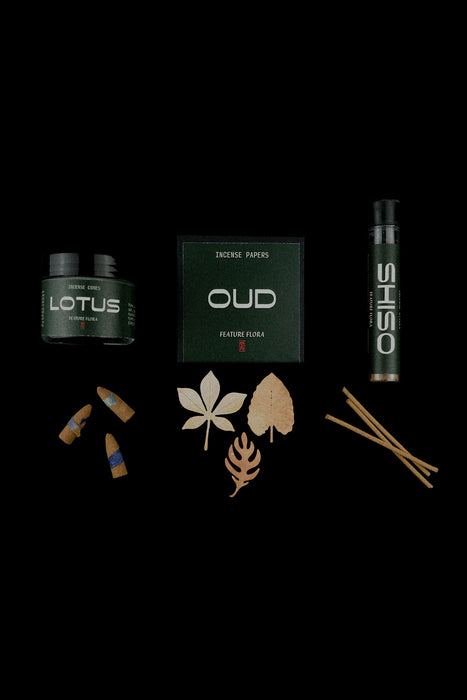 A LIMITED EDITION Collaboration by Feature Flora & Hyungi Park on scent and the intersection of our backgrounds of Vietnam & Korea, channeling our culture, childhood, food, and nostalgia. Hyang is incense in Korean and Nhang is incense in Vietnamese.
Handmade by Hyungi in her studio in Los Angeles, all of her incense are made from ethically-sourced woods, herbs, resins & oils. Light the tip of the incense and place on burner. Due to the handmade nature of her incense, appearances may vary. 
Limited Edition Hyang Nhang Incense Set Includes: 
-15x SHISO Incense Sticks
-10x LOTUS Incense Cones
-10x OUD Incense Papers
-1.7oz White Ash
-Info Card
-All contents are wrapped in fabric and displayed in a wood box
Box Dimensions: 4.8"W x 6.75"L x 3"H
SHISO
Incense Sticks
Herbal, Bitter, Fresh
Chanelling classic Korean and Vietnamese culinary herbs, this incense is fresh and herbal. We utilized dried shies leaves from Hyungi's mother's garden and Feature Flora tencha tea. Paired with lemongrass and coriander, this aroma is a refreshing culinary bouquet of herbal delights.
Ingredients: Make, Yellow Sandalwood, Birch Wood, Lemongrass, Shiso, Hyssop, Coriander, Ginseng, Feature Flora Tencha Green Tea
LOTUS
Incense Cones
Floral, Soft, Mellow
The shape of the cone is reminiscent of a lotus flower before it blooms this incense hints at the cultural significance of the lotus as Vietnam's national flower. We wanted to balance the floral scent of lotus and ylang ylang with strong East Asian woods and herbs like hinoki, ho wood, and eucalyptus. A soft and mellow aroma, truly reminiscent of spa culture in both Korea and Vietnam.
Ingredients: Make, Dark Sandalwood, White Oak, Mugwort, Passionflower, Eucalyptus, Frankincense, Hindi, Ho Wood, Lotus Flowers, Ylang Ylang Oil, Feature Flora Kabusecha Tea
OUD 
Incense Papers
Woody, Spicy, Sweet
Oud is a prized fragrant wood found in Vietnam, more expensive than gold. We paired the sweet and smoky out with rich spices like cassia cinnamon, which is also found in Vietnam. Nostalgic of Buddhist altars and temples, this incense also carries a hint of sandalwood, patchouli, and myrrh.
Ingredients: Handmade Korean Hanji Paper in 3 leaf shapes, Tinchures of Oud, Myrrh, Sandalwood, Spruce, Patchouli, Cassia Cinnamon
_________________________________________________________________________
Hyungi Park is a Korean American artist born in Bryan, TX and raised in Raleigh, North Carolina. Park obtained her BFA in Sculpture + Extended Media at Virginia Commonwealth University in Richmond, VA.
Her works recreate seemingly traditional rituals into fictionalized ceremonies with new age health trends and consecrating them. Her practice involves incense, historically used to measure time, as markers to reimagine new time structures for certain gestures. Her recent installation and digital works evolve from performances, attempting to replicate the visceral, and immortalizing it.
Hyungi currently lives and works in Los Angeles, CA as tattooer, incense maker, bookbinder, designer, and runs BABOSHOP, a multi use space and studio.
To learn more about incense, check out this New York Times article featuring Hyungi Park: