Trà Sen - Lotus Tea *Limited Release*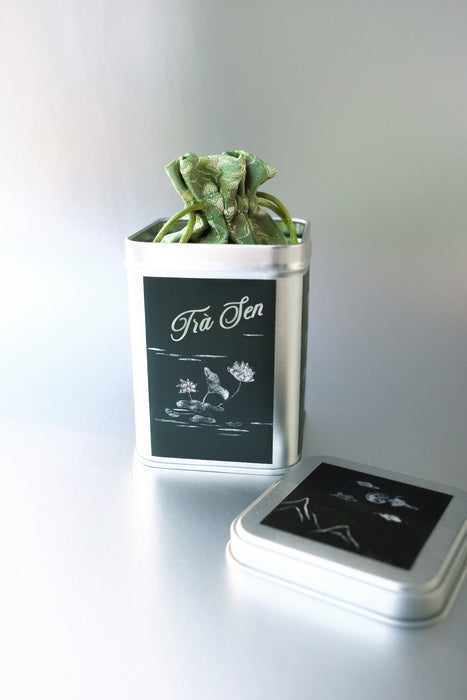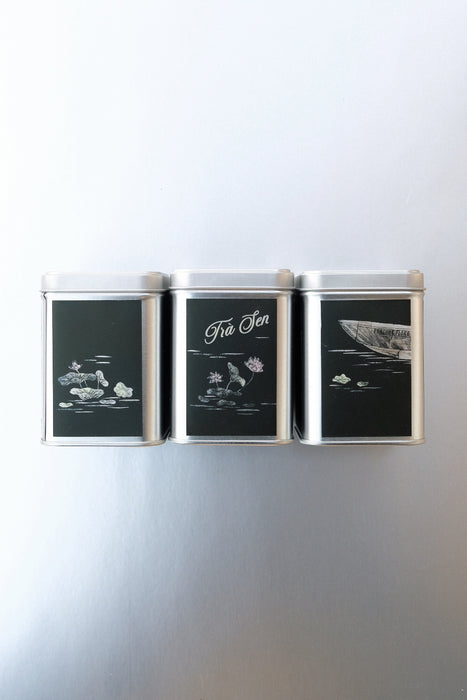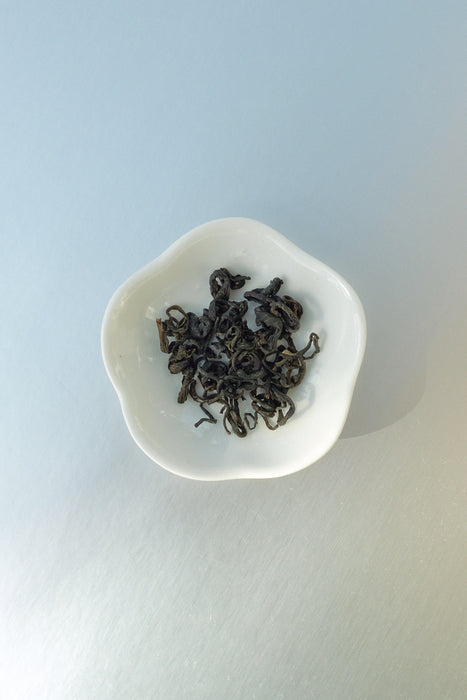 Our 2023 Lunar New Year offering is an incredibly rare naturally-scented lotus green tea that is made using traditional methods exclusively to Hanoi, Vietnam. Lotus flowers hold significant meaning in Vietnamese culture and it is also the national flower of Vietnam. The lotus symbolizes the divine beauty that can come from impurity and dark spaces, as well as representing the growth and prosperity of the Vietnamese people that has occurred over the past 5,000 years.
We brought this tea back with us from our trip to Vietnam at the end of summer 2022 and have been carefully storing it the last few months to be able to offer this for the Lunar New Year. Lotus tea is typically enjoyed on special occasions such as Lunar New Years, but it is also enjoyed by many tea enthusiasts as a special treat and is the ultimate gift for loved ones. 
The tea tin labels we designed were inspired by traditional Vietnamese lacquer art that a lot of Vietnamese families have hanging on their walls at home. For immigrant and refugee families, they bring a simple sense of comfort and familiarity to the household. Each tea tin is hand numbered with only 15 tins created for this limited release. Lotus tea will only be available through Feature Flora once a year around Lunar New Year in a very limited amount. Each tin includes a detailed description of how the lotus tea is made and brewing recommendations to enjoy this special tea to the fullest as well as complimentary Vietnamese tea treats to enjoy with your lotus tea.
-30 grams of premium loose leaf lotus tea
(10-15 servings with up to 5 re-steeps per serving)
-It is best to keep it in an air tight container in a dry and cool area away from sunlight. You can also maintain the quality of your tea by storing the it in the refrigerator.
How lotus tea is made:
It takes about 1,200 lotus flowers to produce one kilogram of this incredibly rare and naturally-scented lotus green tea that is made in Vietnam. Wild green tea that is grown and harvested from ancient tea trees in Phương Độ village of Hà Giang province are then taken to a family of skillful tea makers who use traditional methods to blend it with lotus flowers in Hanoi. The lotus flowers used for this particular tea are from West Lake, the biggest freshwater lake in Hanoi, and are sought after by local tea makers for their distinctive fragrance.

During the lotus season, which is roughly from June to September each year, lotus flowers are harvested in the early morning before the blooms fully open. Next, the flowers are delicately sorted and separated so the anthers, the fragrant parts of the stamens, can be collected. These fresh lotus anthers are then spread on top of a layer of the wild green tea from Phương Độ. This layered infusion process is repeated up to seven times over a two to three week period for the tea leaves to fully absorb the lush fragrance of the lotus. With each infusion, the tea is dried and sifted to discard the old anthers before adding layers of fresh anthers. Truly a labor of love.