Raven Stovetop Tea Kettle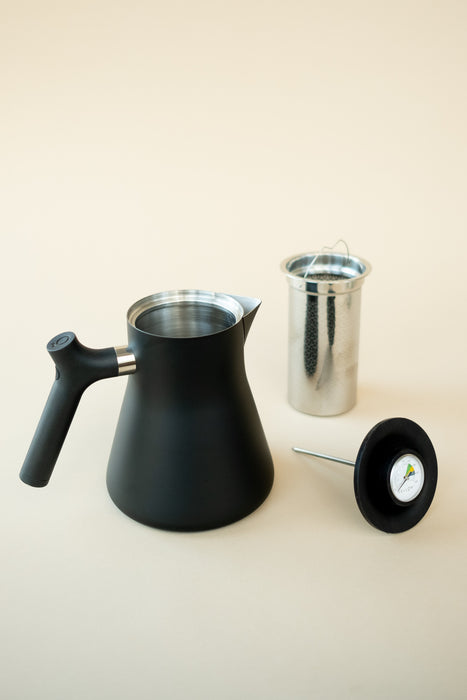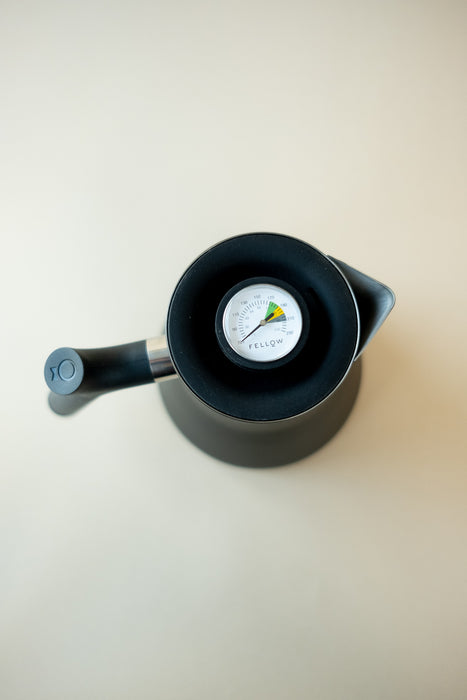 Heat and steep your tea in one compact modern design. The Raven Stovetop Kettle features an integrated tea filter inside the kettle and a color-coded thermometer on the lid so you can dial in the perfect temperature for every type of loose leaf tea. With a weighted handle and iconic tea point for pouring, this is a highly functional, contemporary take on a classic.
Volume: 1.0 L boiling capacity

Material: 301 18/8 stainless steel body & food and dishwasher-safe silicone lid

Compatibility: Electric and gas safe. Please be aware that placing product on rough or unclean surfaces, as well as normal daily use on cooking ranges, will damage finish on bottom of kettle. This is normal wear and does not affect functionality.
Cleaning: Kettle not dishwasher safe. Wash with warm soapy water. Do not use abrasive soaps, cleansers, or scouring pads.
Imported.
_________________________________________________________________________
Fellow is a product design company based in San Francisco focused on delivering tools to help you brew a better cup at home. They make the award-winning Stagg EKG Electric Pour-over Kettle, the Atmos Vacuum Canister and the Prismo for Aeropress.