Stagg EKG Electric Kettle - Matte Black + Walnut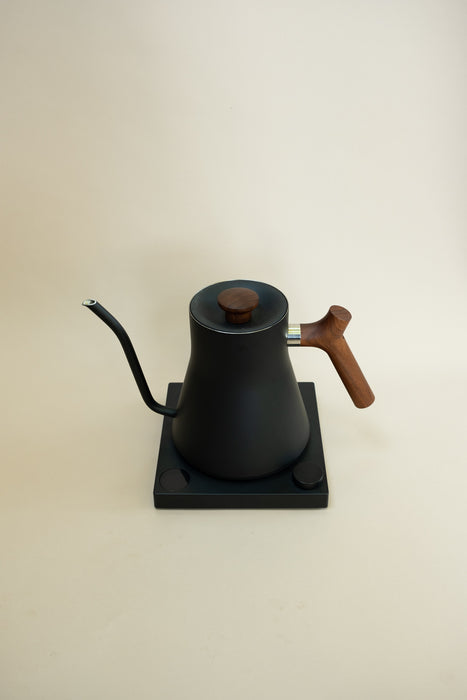 This Stagg EKG Electric Kettle by Fellow is a must-have in the kitchen for both tea and coffee drinkers. It features a quick heat time and an ergonomic walnut wood handle and a precision spout. The base of the kettle is tonal stainless steel and rubber that features an LCD screen display, dial, and control switches to regulate temperature. 

Volume: 0.9L to the max fill line

Temperature Range: 135-212 F / 57-100 C with built-in stopwatch and 60 minute temperature hold time

Material: Black 304 stainless steel kettle body and walnut wood lid and handle, plastic base. 

Power: Integrated 2.5ft power cable - 1200W, 120V~, 50/60Hz, 9A

Plug: Type-B (for U.S. and Canada)

Cord Length: 2.5 ft

Weight: 2.75 lbs/1,274 g (includes kettle base) 

0.9L Dimensions: 11.5″x 6.75″x 8″ (292mm x 171mm x 203mm)
Imported.
_________________________________________________________________________
Fellow is a product design company based in San Francisco focused on delivering tools to help you brew a better cup at home. They make the award-winning Stagg EKG Electric Pour-over Kettle, the Atmos Vacuum Canister and the Prismo for Aeropress.