Seele Salt Scrub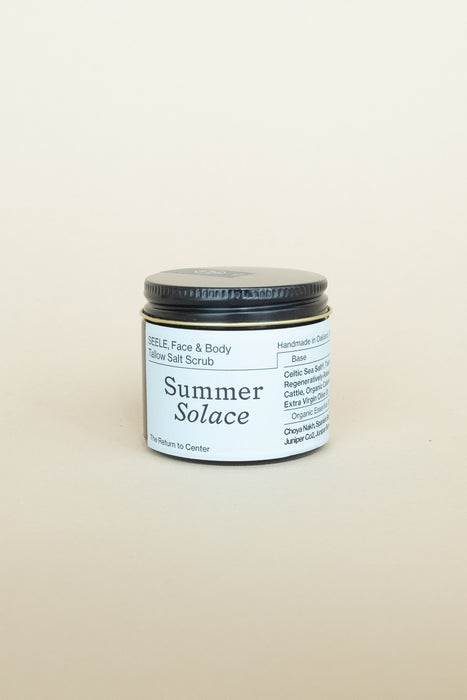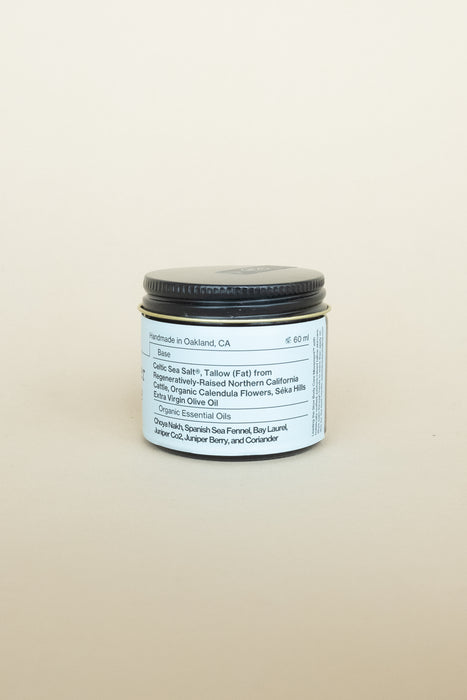 Experience a sensory journey where rejuvenating and stabilizing forces harmonize this  mineral-enriched Celtic Sea Salt® certified regenerative suet tallow scrub. Christened "Seele" or "soul" in German, this scrub embodies the essence of spiritual nourishment and tranquility. Indulge in the gentle exfoliation it offers, leaving your skin tender and velvety to touch.

At the heart of its fragrance lies the intricate Choya Nakh, an ancient balsam crafted from slow-roasted onychia seashells contained within traditional earthenware. This core aroma is blended with Spanish Sea Fennel, Bay Laurel, Juniper, Coriander, and Pine Scotch. 

To activate this salt scrub, mix it with water and gently massage it onto your face or body for a soft glow. You can also add a tablespoon or two of this aromatic salt scrub to your bath.
Ingredients: Tallow (Bos Taurus), Calendula Officinalis Flower Extract, Olea Europaea (Olive) Fruit Oil, Séka Hills Extra-Virgin, Simmondsia Chinensis (Jojoba) Seed Oil, 
Crithmum maritimum (Spanish Sea Fennel) Oil, Laurus Nobilis (Bay Laurel) Leaf Oil, Juniperus Communis (Juniper) Fruit Oil, Coriandrum Sativum (Coriander) Seed Oil, Pinus Sylvestris (Pine Scotch) Leaf Oil, Onycha (Choya Nakh) Shell Extra

Jar contains 60ml
-
What is tallow?  
Tallow is rendered suet, which is the hardy fat that is taken from the inside cavity of the cow that is closest to the loins and kidneys. Summer Solace uses rendered suet from grass-fed cattle raised on organic fertile pasture. The rendered suet yields buttery-soft tallow that is then infused with other ingredients to create nourishing products. Tallow was commonly used as a skin protectant for centuries before the introduction of Petrochemichals. Tallow is natural, absorbable, and rich in fat-soluble vitamins and minerals A, D, K, E and B12. It is safe for all skin-types and for babies, children, and adults.
   _________________________________________________________________________
Summer Solace Tallow is a small, family-owned business dedicated to the production of slow-made, deeply nourishing, organic tallow-based skincare and home goods. Established in the Spring of 2014 by chef and gardener, Megan Bre Camp.
Megan was born and raised in Alaska and now lives in Oakland, California with her family in a converted storefront which she also uses as her workspace. Her indigenous roots in the Central Highlands of Vietnam and the mountains of northern Philippines, respect for animals, the environment, and a strong spiritual connection to nature as a whole are woven into her genetic makeup and inspired her intentions for Summer Solace Tallow.