Yuzu & Sencha Toning Tallow Bar Soap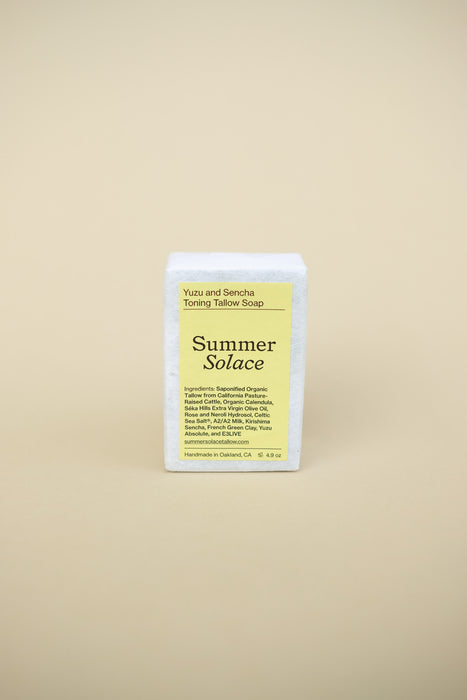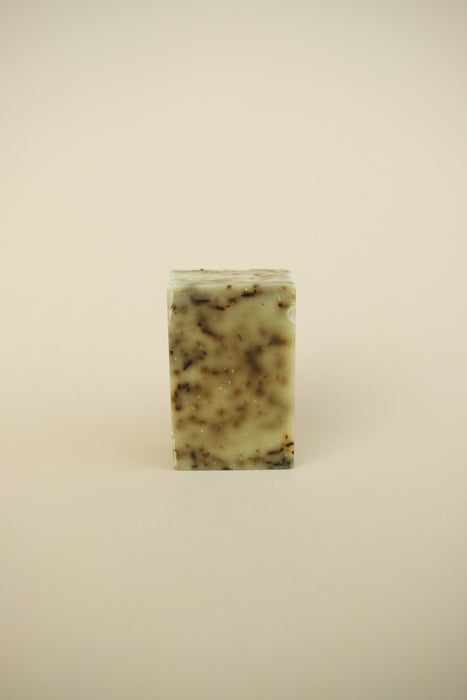 Earthy and aromatic, this Yuzu & Sencha tallow soap is inspired by the cool depths of Japanese winters. A well-balanced blend comprised of high-quality Japanese sencha tea and a dash of yuzu lemon – a spicy citrus fruit that reaches its peak around the December solstice. All soaps are cold-processed, cured for about 1-2 months, and are made using centuries-old techniques.
Use this soap to cleanse, exfoliate, and tone skin of all types. Featuring powerfully absorptive French green clay, which draws impurities out of the skin, helping to support and strengthen skin cells, and increasing circulation.
Hand-crafted from the rendered fat of California pasture-raised cattle, and blended with truly extra-virgin olive oil grown by the Yocha Dehe Wintun Nation, this rich and hydrating tallow soap makes for an especially luscious cleansing experience.
Ingredients: Saponified Tallow (fat) from Northern California regeneratively-raised Cattle, organic California-grown marigold flower (Calendula), Séka Hills extra-virgin olive oil, organic rose (Rosa) hydrosol, organic orange (Citrus sinensis) blossom hydrosol, Celtic Sea Salt®, French green clay, Japanese Kirishima sencha tea (Camellia sinensis), and organic yuzu (Citrus junos)absolute.
Bar measures 4.9 ounces and is cold-processed.
What is tallow?  
Tallow is rendered suet, which is the hardy fat that is taken from the inside cavity of the cow that is closest to the loins and kidneys. Summer Solace uses rendered suet from grass-fed cattle raised on organic fertile pasture. The rendered suet yields buttery-soft tallow that is then infused with other ingredients to create nourishing products. Tallow was commonly used as a skin protectant for centuries before the introduction of Petrochemichals. Tallow is natural, absorbable, and rich in fat-soluble vitamins and minerals A, D, K, E and B12. It is safe for all skin-types and for babies, children, and adults.
   _________________________________________________________________________
Summer Solace Tallow is a small, family-owned business dedicated to the production of slow-made, deeply nourishing, organic tallow-based skincare and home goods. Established in the Spring of 2014 by chef and gardener, Megan Bre Camp.
Megan was born and raised in Alaska and now lives in Oakland, California with her family in a converted storefront which she also uses as her workspace. Her indigenous roots in the Central Highlands of Vietnam and the mountains of northern Philippines, respect for animals, the environment, and a strong spiritual connection to nature as a whole are woven into her genetic makeup and inspired her intentions for Summer Solace Tallow.