Hario Cold Brew Tea Set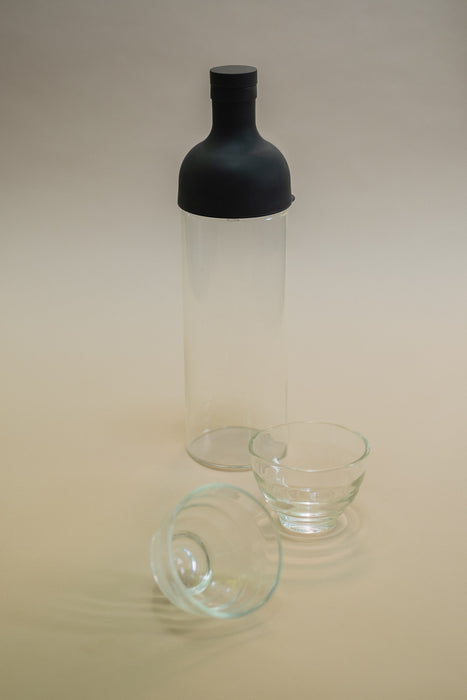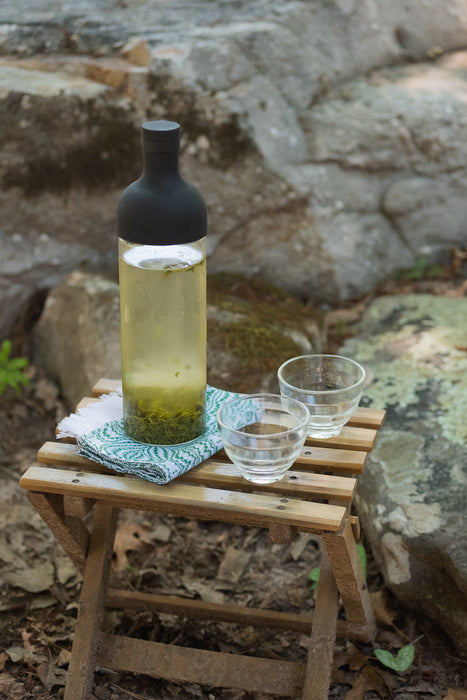 Enjoy your favorite tea cold-brewed! This cold brew set by Hario comes with a pair of heatproof tea glasses and a glass bottle with a removable plastic strainer inside a silicone top. 
Size: 750 ml (25 oz)
Height 12"; Diameter 3"
Silicone Top Color: Black
Dishwasher safe
Removable bottle spout and stopper/ Silicone rubber Mesh filter
BPA-free
x2 Heatproof Tea glass (170ml)
Made in Japan
_____________________________________________________________________
About Cold Brewed Tea 
Cold brewed tea is refreshing and can be enjoyed any time throughout the day and tastes especially great during the hot summer days. The cold brewing method lowers the astringency and caffeine and draws out the sweeter notes in tea. Pouring ice over hot tea or initially brewing the tea with hot water and letting it cool afterwards will produce an astringent tea that is not subtle, whereas brewing tea with cold water will allow you to taste different flavor profiles of the tea that you normally would brew hot. 
Cold Brew Steeping Recommendation
-Tea: add 10g 
-Water: fill the bottle with fresh cold water and make sure the silicone top is properly placed on the glass bottle so that the water does not absorb any odors from your refrigerator
-Time: Steeping times vary depending on the type of tea and your preferred taste, but we recommend to brew the tea for at least 3 hours or leave overnight in your refrigerator
-Re-steep tea and add more cold water, if desired